Achievements
The company has never rested on laurels and always surpassed the standards it has set for itself, quenching its scientific quest and making enormous room for improvement and research.

In the year 1996-1997, the company rigorously studied the conventional steel gears used in RA2 oil pumps. On the extensive research, for a better performance and more productive substitute, launched in the invention of Sintered gears. These sintered gears are very cost effective in comparison with conventional steel gears, as it didn't need to undergo through machining, gear hobbing, shaving etc. thus cutting down on cost. On other side, accuracy of tooth span was measuring within 2 to 3 micron, and super surface finish was additional advantage for noiseless rotation in pump assembly. With all these features, impacted oil pump showcased sky rocketing performance. Redefining engineering. A appreciation letter of Mr. A. R. Jamenis (Vice President) of M/s Kirloskar Oil Engines Ltd. says it all.

The company's caliber gained impetus again when the company on the request of M/s International Tractors Ltd. Hoshiyarpur (Punjab) designed and developed the most opt Lubricating oil pump for their Sonalika tractor with sintered gears. Here too, there was paradigm shift in the discharge and pressure factor as against their previous pump. Followings are the results.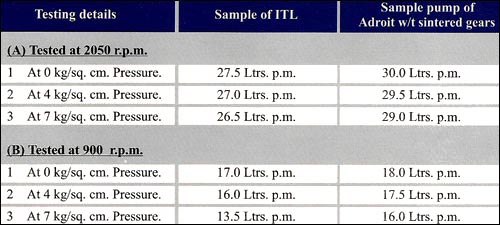 The company has always achieved an appreciable quality rating of more than 95%. The company has gained accreditation to ISO 9001 – 2000, Meeting all the necessities to manufacture O.E.'S.

Testing Experts
The company holds exclusive and rare expertise of conducting thorough test of Lubricating oil pumps for all it's parameters viz. pressure, discharge, noise, leakage, speed and fitment through it's indigenously designed and developed testing methods and procedures, a skilled honed not by many.